SAP EWM can support your operational needs now and into the future, enabling your business to grow and react to whatever future demands your particular market may need to meet.
If you are using SAP's Enterprise Resource Planning (ERP) software, but you're not yet on SAP S/4HANA, this challenge may be exacerbated by SAP's drive to move clients from SAP R/3 ECC onto the S/4HANA platform.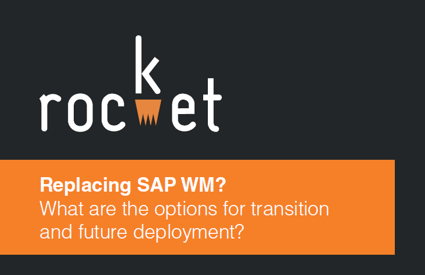 Download this free resource and discover:
What is SAP Extended Warehouse Management?
Why EWM is the next generation, along with the functionality it includes.
The options available on S/4HANA.
And more...
If you are considering replacing SAP WM, or looking at a move to S/4HANA, access our comprehensive guide today to learn more about the options for transition and future deployment.
We understand for some, SAP EWM may not be the chosen strategic approach currently. The Rocket WM Enhanced approach with Rocket Mobile may help extend the ROI from your WM Landscape, please talk to us today to learn more. Get in touch

Simply complete the form to access the free eBook.